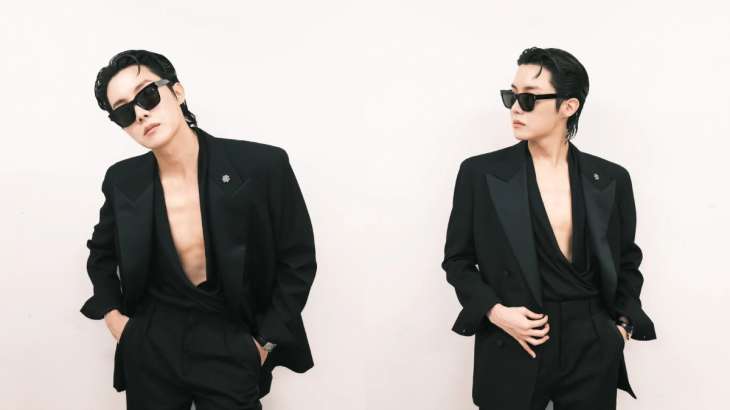 BTS member J-Hope ushered in the new year with a spectacular live performance at Time Square hosted by Ryan Seacrest. While Jungkook shared a rare post on the Weaver fan community, Jimin penned a heartfelt note, J-Hope carried on the army. Videos from J-Hope's solo performance are now taking the internet by storm. At the concert, Hobie wore a cream sweater, paired with a bucket hat and pink sneakers.
They performed songs like Chicken Noodle Soul and even a remixed version of BTS' hit Butter while the rain came down. J-Hope also shared a glimpse of the New Years countdown from Times Square on his Instagram account. Earlier, he was seen rehearsing with the dancers. After the performance, they came live on Weaver and surprised the fans.
Reacting to the sneak peek, a fan wrote, "Hobie tripped while coming down the stairs 🙁 Overall the sound is really not good and his microphone keeps going off…he seems pissed off about all the issues, keep in mind that That's it only so far there are problems for rehearsals (like 4 actors have already rehearsed).They performed very well, speaking perfect english, singing and dancing even in the rain!!! I am very proud."
In some videos, fans are seen cheering for Jung Ho Seok and chanting 'Hobi go!' Yelling can be heard. Many of them also noted his injured wrist, which was caused by falling down the stairs during rehearsal. But, that didn't stop J-Hope from giving his best performance for the last show of the year.
After announcing a hiatus from his group activities in June, BTS rapper J-Hope is enjoying impressive success in his solo career. He first released his solo album 'Jack in the Box', which broke several records, and then became the first K-pop artist to headline the Lollapalooza Festival in Chicago.
So read: BTS Jhope set to perform at New Year's Rockin' Eve party; slots at the airport
So read: BTS V wrote a message for ARMY and shared a new video on his birthday; Check out Kim Taehyung's latest posts here