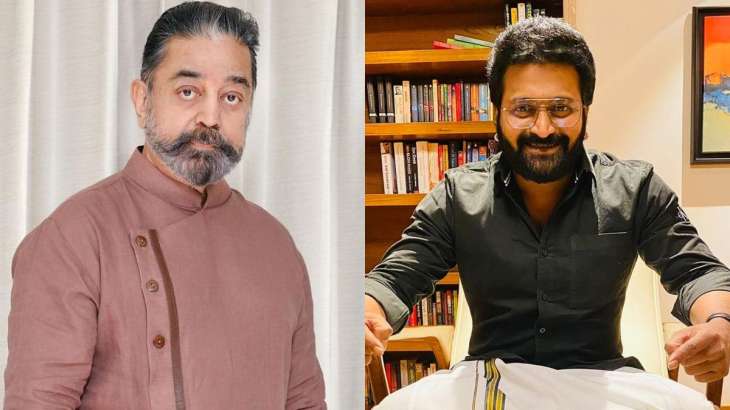 Amidst the box office success and critical recognition from several quarters, Kantara star and director Rishabh Shetty is elated with the appreciation letter he received from legendary actor Kamal Haasan earlier this year. Earlier too, Kamal Haasan had praised Rishabh Shetty when Rishabh Shetty met him.
Rishabh Shetty has framed the letter and posted it on his social media handle. The South Indian acting legend, popularly known as 'Ulga Nayagan' ('Hero of the world'), has praised Rishabh for skillfully handling the concept of God in the film.
Kamal Haasan wrote, "I am a godless man, yet I understand the need of the One above all." "I truly believe that compassion is missing in most of our mythology-depicted deities. We Dravidian society are a matriarchal society. This is seen in the last scene of your film where the god behaves like a mother rather than a testosterone father Let's do what they had. Started as."
He also reminds Rishabh Shetty of the glorious cinematic legacy of South Indian cinema. "There are many untold subtexts that you may not have even intended, but other minds will discover. This is how a work of art achieves the status of a classic."
"I know you couldn't watch a movie called 'Nirmalyam' [the Malayalam maestro] MT Vasudevan. Your film has shades of that classic. There are many ancestors in your cinematic DNA that you may not be aware of, but remember that the cinematic language you speak comes from them."
Initially released in Kannada, 'Kantara' written and starring Rishabh Shetty soon captured the imagination of the country. Kamal Haasan wished Rishabh more success for his future projects.
"As I told you on the phone, destroy the record made by 'Kantara' with your next film. There is no such thing as luck for those who deserve it," concluded the letter.
Taking to his social media handle, Rishabh expressed his happiness in the caption: "It means a lot to receive such a lovely message from the legend of Indian cinema. Overwhelmed and amazed to see this surprise gift from Kamal sir. Thanks a lot for it." Precious gift sir.
Most recently, 'Kantara' made the Academy Awards' merit list in the Best Picture and Best Actor categories, meaning it is eligible to be voted on by Oscar members and make its way to the main nominations.
'Kantara' was released in Kannada version and Hindi version on 30 September and 14 October respectively. The film is written and directed by Rishab Shetty. Produced by Vijay Kiragandur and Chaluve Gowda of Homble Films, the film stars Rishabh Shetty, Saptami Gowda and Kishore Kumar in lead roles.