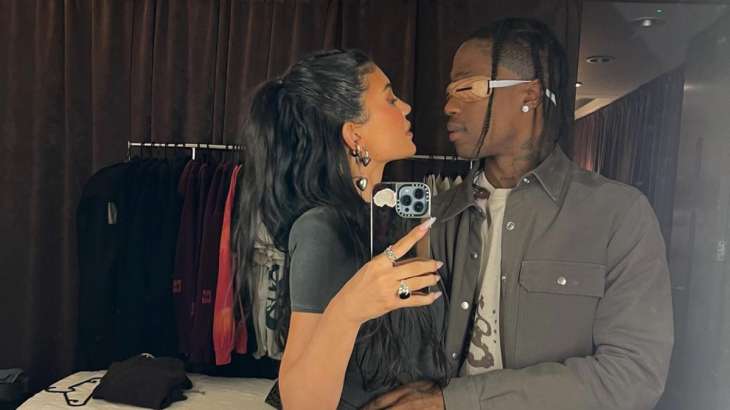 Kylie Jenner has reportedly split from her son Travis Scott less than a year after welcoming their son together. The 25-year-old makeup mogul gave birth to her second child in February last year. The couple also have a four-year-old daughter, Stormi Webster, reports The Mirror. Sources close to Kylie and Travis, 31, said the pair spent Christmas and New Year apart but "remain friends" and will continue to work together to co-parent their two young children.
An insider told The Mirror: "Kylie and Travis are off again, they were supposed to holiday together, but she went to Aspen to be with family and friends."
"It's happened many times before, they've known time and time again, but have always remained friends and great co-parents," the source revealed in an interview with US Weekly.
The split came as fans began speculating whether or not Kylie and Travis were still together. Kylie and Travis were first seen together at Coachella in 2017. The Kardashian star gave birth to their daughter a year later. According to The Mirror, in 2019, the couple split for the first time, but decided to stay together during the COVID-19 pandemic for Stormi's sake.
After weeks of speculation that the pair had rekindled their romance, Kylie is set to give birth to their second child in February 2021.
Meanwhile, some time ago Travis Scott's alleged ex-girlfriend accused the rapper of cheating with Kylie Jenner. As the rumors grew, Travis responded by saying "I don't know this person. I've never been with this person." According to Page Six, a model recently took to the social media site to post "evidence" on Instagram to show that the two were recently on the same set of their production.
Travis shut down the alleged rumors and wrote, "While I was directing a video, an uninvited person was taking photos on a closed set." He said, "I don't know this person. I've never been with this person." He then asked the model to "stop the constant cyber games and fictional storytelling." According to Page Six, the two first linked up in 2013, long before Travis and Kylie started seeing each other.
– With inputs from IANS and ANI