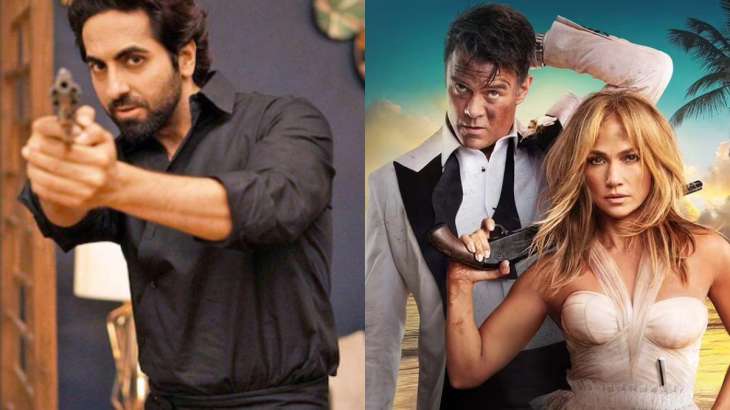 OTT movies and new web series releasing this weekend (January 27): Shahrukh KhanPathan released in theaters this week and is already creating a lot of buzz. It is doing well at the box office and has apparently revived the ticket window. However, there are also many exciting movies and new web series that are making their way to OTT. From Ayushmann Khurrana and Jaideep Ahlawat's An Action Hero to Jennifer Lopez and Josh Duhamel's Shotgun Wedding, there are a lot of films releasing this weekend. Whereas, talking about web series, Moonlight Romance, Heirs of the Night and others are releasing on Netflix, Prime Video, Disney Plus Hotstar, Voot Select, MX Player, Zee5 and others.
So grab your favorite snacks and get ready to binge watch. Know what is releasing on OTT this weekend.
an action hero
While Ayushmann Khurrana and Jaideep Ahlawat's N Action Hero failed to create magic at the box office, the film managed to bring out new avatars of two extremely talented actors. The film tells the story of an action star, Manav Khurana (played by Ayushmann), who accidentally kills Vicky Solanki, the younger brother of notorious gangster and Jat leader Bhura Solanki (played by Jaideep Ahlawat). Khurrana did this after refusing to act in a gangster biopic because he wanted to stay away from 'Bhai Log' – the underworld.
OTT platform: Netflix
release date – January 27, 2023
the director: Anirudh Iyer
Language: Hindi
Brave Hindustan
Jambaaz is a thriller series from India that tells the story of a courageous IPS officer Kavya Iyer who fights against extremists and re-establishes the common man's faith in the law. The show stars Sumeet Vyas, Barun Sobti, Chandan Roy, Meeta Vashishtha along with Deepika Amin and Sandeep Dhabale along with Regina Cassandra as a strong and dedicated IPS officer. The series is a tribute to the IPS officers of India and their selfless work.
OTT platform: G5
release date – January 26, 2023
the director: Srijit Mukherjee
Language: Hindi, Tamil and Telugu
shotgun wedding
Wear your best clothes because you have been invited to the biggest wedding ceremony of the year. Featuring Jennifer Lopez and Josh Duhamel, the story is based on a final destination wedding that is hijacked by criminals, where the entire party is taken hostage, where suddenly everyone's life is in danger. In the process of saving their families, the couple rediscover why they fell in love in the first place. With a stellar star cast and amazing comedy chops, the film will be a journey of fun, wit and rib-tickling humor while the bride and groom try to save the day and their marriage.
OTT platform: Lionsgate Play
release date – January 27, 2023
the director: Jason Moore
Language: English
Chandni Romance
Moonlight Romance is a 24-episode Taiwanese romantic fantasy drama. The story revolves around an immortal match-maker, Yu Lao/Li Yu (Addison Song), who descends from heaven to earth in a new role as a divorce lawyer. On Earth, he accidentally meets Fang Duomei (Amber Ann), the developer of the love pheromone perfume patent, who believes the product can be synthesized by scientific means. As they become friends, Li Yu learns that Duimoi had previously saved his life, and slowly develops feelings for him. But will humans and immortal beings be happy forever?
OTT platform: MX Player
release date – January 28, 2023
the director: Kim Seong-eun Baek Sang-hoon
Language: Hindi
heirs of the night
Dive into a world of fantasy with Heirs of the Night (Season 1). Based on Ulrike Schweikert's book series, The Heirs of the Night, the 13-episode series explores a school for vampires where students from different clans learn special powers to defeat Dracula, an ancient evil. Protagonist Alisa (Anatasia Martin), a 14-year-old girl, has a special and ambiguous relationship with evil, which is revealed over the course of the series. Season 1 revolves around Alisa, her everyday teenage problems and how she balances her unique strength.
OTT platform: MX Player
release date – January 25, 2023
the director: Diederik Van Rooijn
Language: Hindi
unclassified
The first of its kind web-series stars Mugdha Agarwal, Vikram Bhui and Tanya Singh Bhatnagar in lead roles. The three-episode web show talks about the emotional struggle today's generation faces while trying to strike a balance between love and ambition. Unlike the olden times, when women felt guilty for choosing to be themselves, female characters in web shows redefined feminism, showing strength, independence and the courage to be emotionally vulnerable.
OTT platform: Disney + Hotstar
release date – January 27, 2023
the director: Rahul Bhatnagar
Language: Hindi
18 Pages (movie)
Written by well-known director Sukumar (Director of Pushpa) and directed by Palnati Surya Pratap, 18 Pages narrates a romance drama with a hint of suspense in which two characters fall in love without meeting. The film brings together Nikhil Siddharth and Anupama Parameswaran after a successful mystery film. Sid (Nikhil), a middle-class techie, is madly in love with Anu, but suffers depression after learning about her. Under unexpected circumstances, he falls in love with Nandini (Anupama). Why and how did his journey begin?
OTT platform: Ahh
release date – January 27, 2023
the director: Surya Pratap
Language: Telugu
don't miss
Pathan on OTT: Shahrukh Khan's film will come on streaming platform on this date, details leaked
Will Hansika Motwani's Shaadi become a Disney Plus Hotstar show? here we know
Mission Majnu Twitter Review: The Sidharth Malhotra starrer spy thriller has been loved by the audience