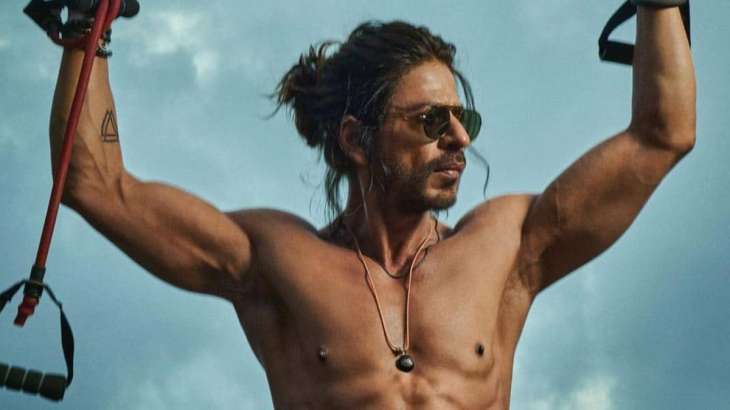 pathan is most awaited movie of bollywood superstar Shahrukh Khan, is released in theaters today (25 January). The film is a Republic Day gift to fans who are waiting to see Shah Rukh Khan on the big screen. Pathan has already taken the box office by storm. Going by its advance bookings, the film has broken all records of opening day box office collections and is expected to revive showbiz at the ticket window. Interestingly, right after the first show of Pathan, the exhibitors have extended the film to over 300 shows across India. This is phenomenal!
Now the total number of screens is 8000 screens across the world in Hindi, Tamil and Telugu formats. Domestic – 5,500 screens, International – 2,500 screens. It is the biggest ever release of a Hindi film in the history of Indian cinema.
Pathan is a part of Aditya Chopra's ambitious detective universe and stars the country's biggest superstar Shah Rukh Khan, Deepika Padukone others John abraham In this.
Pathan Trailer:
The publicity about Pathan is unprecedented. All the assets YRF has released so far from the film have proved to be super-hits right from the teaser, two songs – Besharam Rang and Jhoom Jo Pathan – and the recently released trailer that has taken the internet by storm!
Another big reason for the buzz about Pathan is that the country's two biggest megastars Shah Rukh Khan and Deepika Padukone are working together in Yash Raj Films' Pathan. They have been one of the most loved on-screen couples due to their brilliant blockbuster films like Om Shanti Om, Chennai Express and Happy New Year.
don't miss
Pathan Twitter Review: The Shah Rukh Khan-Deepika Padukone film left fans on the edge of their seats
Shah Rukh Khan's best openers at the box office before Pathan
Katrina aka Zoya hints at Shah Rukh Khan's Pathan's 'dangerous' mission; deepika padukone reaction