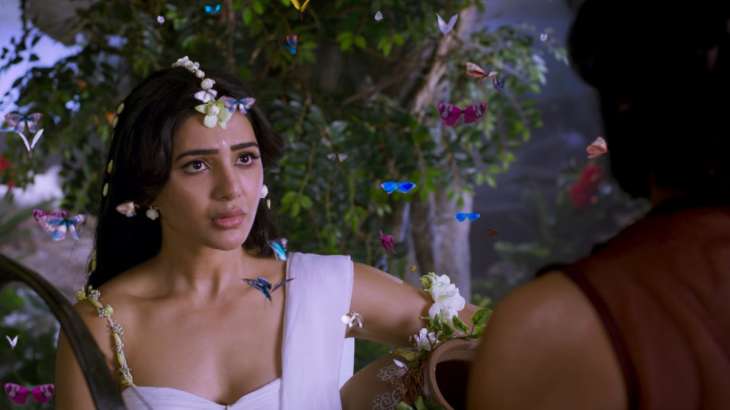 Shakuntalam Trailer: Samantha Ruth Prabhu is no damsel in distress in her upcoming film Shakuntalam. The first trailer of the Dev Mohan starrer has also been released and the actress looks breathtaking to say the least. The largely mounted film is based on the internationally acclaimed Sanskrit play 'Abhigyana Shakuntalam' by Kalidasa. The film will release in Hindi, Telugu, Tamil, Malayalam and Kannada cinema halls.
The story of Shakuntalam revolves around the epic love story of Shakuntala and King Dushyanta from the Mahabharata portrayed by Samantha and Dev Mohan. The film is helmed by director Gunasekhar and Kashyapa depicts a whimsical tale of love set in Kanomalu (Kashmir), the grandeur and magnificence of Dushyanta's Puru dynasty makes the film extraordinary. Watch the trailer of Shakuntalam in Hindi here:
Apart from Samantha, Dev Mohan, Shakuntalam stars Allu Arha, Sachin Khedekar, Kabir Bedi, Dr. M Mohan Babu, Prakash Raj, Madhubala, Gautami, Aditi Balan, Ananya Nagalla, Jisshu Sengupta and others. The film will hit the theaters on February 17, 2023.
Meanwhile, Samantha has been keeping a low profile ever since she was diagnosed with an autoimmune condition called myositis. A few months back, Samantha revealed that she has been diagnosed with an autoimmune condition called 'Myositis'. The 35-year-old diva broke her silence on her health update through her latest social media post. She took to her Instagram handle and shared a picture of herself sitting on a couch with an IV drip attached to her wrist.
She captioned the picture, "Your response to the trailer of 'Yashoda' was overwhelming. It is the love and connection I share with all of you that gives me the strength to face the endless challenges life throws at me." "A few months ago I was diagnosed with an autoimmune condition called myositis. I was hoping to share this after I've narrowed it down. But it's taking a little longer than I expected. I'm slowly realizing that we don't always need to put up a strong front.