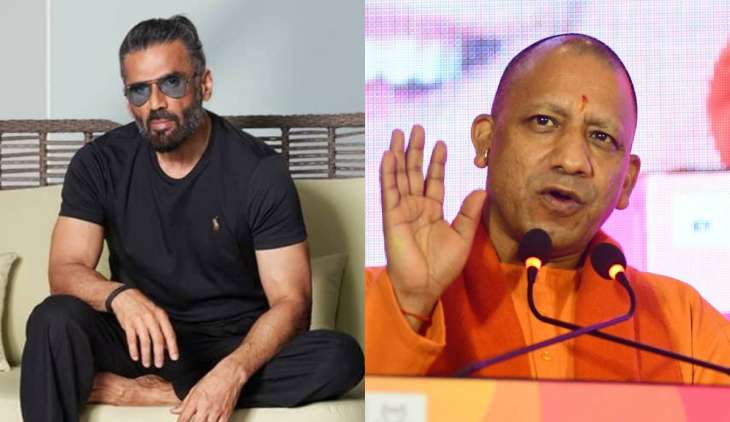 Bollywood actor Sunil Shetty urged the Chief Minister of Uttar Pradesh Yogi Adityanath To help eradicate hate against the Hindi film industry and get rid of the 'Boycott Bollywood' trend on social media. The Uttar Pradesh Chief Minister, who was on a two-day visit to Mumbai, concluded his visit by meeting film personalities like Shetty, Subhash Ghai, Jackie Shroff, Rajkumar Santoshi, Manmohan Shetty and Boney Kapoor. Although the agenda of the meeting was to discuss the possibilities of shooting and investment in Noida Film City, Shetty took the opportunity to put forth the grievances of the film industry.
The 61-year-old actor said, "I want to talk about the hashtag that is going on – 'Boycott Bollywood'. If you say something about it, it can stop. We are doing good work."
Shetty further requested Adityanath to seek Prime Minister Narendra Modi's support in removing the stigma surrounding Bollywood. He said, "It pains me to see this stigma. Ninety-nine percent of the people here are good. So, Yogi ji, please take the lead and talk to our Prime Minister about removing this stigma."
Shetty said the film industry has played a major role in connecting India with the world and urged the Uttar Pradesh chief minister to use his influence to stop the 'boycott Bollywood' trend.
"We have to join hands and try and get rid of the trend of 'Boycott Bollywood' and make people understand that most of the people in the industry are good. We don't do drugs, we don't harm others. I request you I request you to be." Individuals to eliminate stigma. This industry is responsible for connecting India to the world, especially when it comes to music. You are a big name, sir. If you talk about it, people will listen," the actor said.
The BoycottBollywood hashtag first started trending after the death of actor Sushant Singh Rajput in June 2020, igniting a discussion on the nepotistic nature of the industry and the gate-keeping attitude of top banners. The hashtag raised its ugly head two years after Superstar released on August 11. Aamir Khanfilm "Lal Singh Chadha" and Akshay Kumar"Raksha Bandhan".
Other targets are Anurag Kashyap's directorial "Dobara", Vijay Deverakonda-starrer "Liger", and Ayan Mukerji's big-budget fantasy adventure "Brahmastra: Part One – Shiva". supper star Shahrukh KhanThe latest in the line of fire is the upcoming film "Pathan".
Shetty said that it is wrong to label the industry in a bad light because of "one rotten apple". "Today people think Bollywood is not a good place. But we have made so many good films here. I was also a part of one such film 'Border'," he said.
The actor said he is grateful for the love and support showered on him by the people of Uttar Pradesh in his initial years.
He said, "Whatever I am today, I am because of the people of Uttar Pradesh. When they would fill theatres, we knew that our films would do well everywhere. If you lead, bring about a change in people's thinking." May go." Shetty said.
Sonu Nigam, Jackky Bhagnani, Rajpal Yadav, Ravi Kishan, Ashish Singh, Tej Kiran, Chandraprakash Dwivedi and Om Raut also attended the meeting held at Taj Colaba.