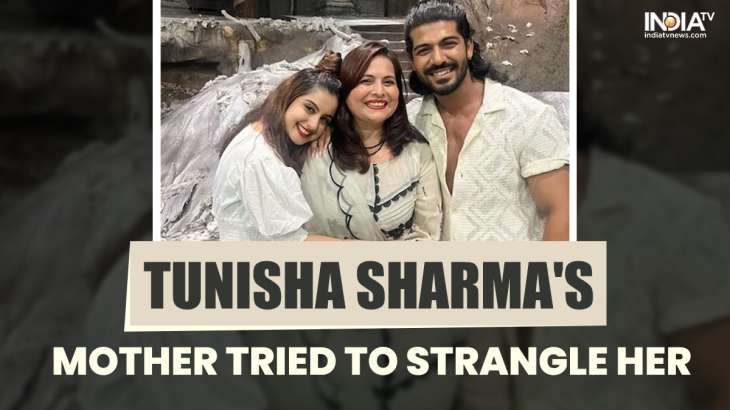 The case of Tunisha Sharma's death is getting complicated day by day. The family of the late actress and the family of accused Sheejan Khan are accusing each other and telling each other the reason for Tunisha's depression. Earlier, the late actress' mother Vanita Sharma had alleged that Sheejan forced Tunisha to change her religion and their 'various affairs' made her worry. Khan's family, on the other hand, claimed that Tunisha's mother and her uncle Sanjeev Kaushal used to suffocate her and completely control her life, which upset her. Now Khan's lawyer Shailendra Mishra has alleged that Tunisha's mother once tried to strangle him.
During the press conference where Sheezan Khan's family including her two sisters Falak and Shafaq addressed the media, the lawyer said, "Tunisha's mother knows very well that Tunisha did not have a good relationship with her family. Tunisha's father After K's death, he celebrated his birthday happily ever after. This was the first time he had planned to celebrate his birthday, after years he had celebrated his birthday with his father. Police investigate the relationship between Tunisha's mother and Sanjeev Kaushal. is checking.
She said, "It was Sanjeev Kaushal and Tunisha's mother Vanita Sharma who dominated and controlled her. After the lockdown, Tunisha's mother and Kaushal forced the actress to move to Chandigarh, and when she refused , then Vanitha broke his mobile phone and even tried to strangulate him." Tunisha shared all this with the director of the show she was a part of then.
Mishra further claimed, "Tunisha and Sanjeev Kaushal (an uncle in Chandigarh) had a terrible relationship. Sanjeev Kaushal and his mother, Vanitha used to control her and her finances. Tunisha would often beg her mother for her money. Was." He claimed that Vanitha once slapped his daughter and also tried to strangle her.
Talking about Pawan Sharma, Tunisha's maternal uncle, advocate Shailendra Mishra claimed that he was the late actress's manager four years ago and was fired due to his controlling nature. She said that he was very intrusive and rude to Tunisha.
Furthermore, Sheezan Khan's sister, Falak Naaz, who is also an actor, denied Tunisha's mother's claims during the presser and said that neither her brothers nor their family members forced her to change her religion or wear a burqa. (black scarf) was forced to wear. Also, Naaz said that the picture was circulated by media channels in which she could be seen wearing a burqa during a shoot.
Ali Baba: Dastaan-e-Kabul actress Tunisha Sharma was found dead on December 24 in the washroom on the sets of the TV serial near Vasai. Sheejan Khan was arrested the next day for alleged incitement. In the latest development in the death case, a Vasai court on Tuesday allowed actor Sheezan Khan to keep his hair uncut for a month. The actor had sought exemption from the mandatory haircut in prison, saying that he wanted to maintain continuity with the look of the TV productions he was acting in. The court also asked the jail authorities to provide security and counseling to Khan as per the jail manual.
don't miss
Tunisha Sharma death case: Police records statement of Sheezan Khan's 'secret' girlfriend
Tunisha Sharma death case: Who is Sanjeev Kaushal? Know why the actress was afraid of this person…
Tunisha Sharma's friend rejected the claims of Sheezan Khan's family, said- the couple used to fight often. Specific